Episode 13 looks at the unromantic not comedy He Love Me, He Love Me Not or À la folie… pas du tout
Directed by Laetitia Colombani.
Staring Audrey Tautou, Samuel Le Bihan, Isabelle Carré, Sophie Guillemin as Helouise and Clément Sibony as David.
Written by Laetitia Colombani and Caroline Thivel
Trigger warnings for stalking, suicide and pregnancy loss.
A young woman who is in love with a married doctor becomes dangerous when her attempts to persuade him to leave his wife are unsuccessful. However, when things are seen from his point of view, the real situation becomes clear.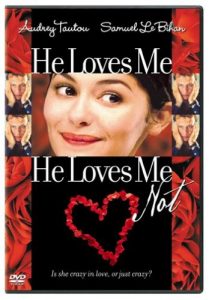 In a 2003 BBC interview,[5] actress Audrey Tautou commented on working with director Laetitia Colombani: "I found her very precise. She knew exactly what she wanted. Even though she's very young, she managed to control the whole production. She knew her subject–this strange kind of madness–very well because she had studied it for a very long time." – 
https://en.wikipedia.org/wiki/He_Loves_Me…_He_Loves_Me_Not_(film)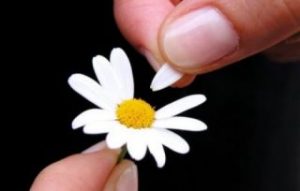 The title refers to the last two lines of the French game of Effeuiller la Marguerite (Fr., "to pluck the daisy") of pulling petals off a flower, in which one seeks to determine whether the object of their affection returns that affection and to what extent: un peu ("a little"), beaucoup ("a lot"); passionnément ("passionately"): à la folie ("to madness"); pas du tout ("not at all").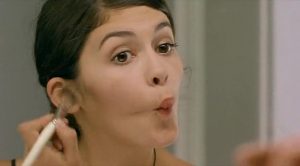 Erotomania
excessive sexual desire.
PSYCHIATRY
a delusion in which a person (typically a woman) believes that another person (typically of higher social status) is in love with them.
Erotomania is listed in the DSM-5 as a subtype of a delusional disorder. It is a relatively uncommon paranoid condition that is characterized by an individual's delusions of another person being infatuated with them. This disorder is most often seen (though not exclusively) in female patients that are shy, dependent and sexually inexperienced. The object of the delusion is typically a male who is unattainable due to high social or financial status, marriage or disinterest. The object of obsession may also be imaginary, deceased or someone the patient has never met. Delusions of reference are common, as the erotomanic individual often perceives that they are being sent messages from the secret admirer through innocuous events such as seeing license plates from specific states. Commonly, the onset of erotomania is sudden, and the course is chronic.
Reviews:
He Loves Me…He Loves Me Not has its own charms, but part of its wicked kick is that it's the anti-Amélie, presenting romantic fixation, not as noble and sweet, but objectively, as something selfish and volatile….[the film is] driven by a shrewd vision and, beneath its cool French surface, a well-placed sense of moral indignation. Tautou could not be better: She's infuriating — as well as emotionally present every moment onscreen.
Recommendations:
Play Misty for Me directed by Clint Eastwood
Ingrid Goes West directed by Matt Spicer
Web site: www.FatalFemmesPodcast.com
Patreon: https://www.patreon.com/FatalFemmes
Facebook: https://www.facebook.com/fatalfemmes
Twitter: https://twitter.com/fatal_femmes
Podcast: Play in new window | Download
Subscribe: Google Podcasts | RSS | More