In Austin, Texas we have had 24 days of temperatures of 100°F/38°C or higher in 2019. So this seemed like the perfect time to talk about Body Heat. Joining us is author Halley Sutton.  http://halleysutton.com
Released in 1981
Written and directed by Lawrence Kasdan.
Staring William Hurt, Kathleen Turner and Richard Crenna. 
Trigger warning for murder, violence, homophobic slur.
The film was inspired by Double Indemnity.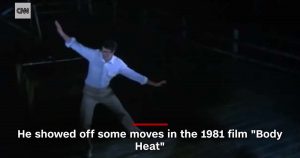 Recommendation:
Serial Mom (1994)
Written and Directed by John Waters 
Starring Kathleen Turner, Sam Waterston, Ricki Lake and Matthew Lillard.
Double Indemnity (1944)
Written by Billy Wilder and Raymond Chandler
Directed by Billy Wilder
Staring Fred MacMurray, Barbara Stanwyck and Edward G. Robinson.
Queenpin and Give Me Your Hand by Megan Abbott
Miami Purity by Vicki Hendricks
Links:
http://mentalfloss.com/article/84997/10-cool-facts-about-body-heat
https://en.wikipedia.org/wiki/Body_Heat
Podcast: Play in new window | Download
Subscribe: Google Podcasts | RSS | More