In episode 26 we look at the 1996 movie Set It Off. Directed by F. Gary Gray, written by Kate Lanier and Takashi Bufford. Staring Jada Pinkett-Smith, Queen Latifah, Vivica A. Fox and Kimberly Elise.
Trigger warning for this episode are gun violence, death, racism, sexism, violent imagery, sexual exploitation, state violence, homophobia, classism, and misogynoir.
Misogynoir is misogyny directed towards black women where race and gender both play roles in bias. The term was coined by queer black feminist Moya Bailey, who created the term to address misogyny directed toward black women in American visual and popular culture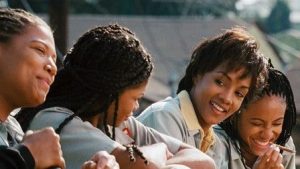 The film became a critical and box office success, grossing over $41 million against a budget of $9 million.

 

Tribute magazine stated that it is New Line Cinema's highest-grossing film of 1996, and that it won Gray a Black Film Award for Best Director, and the Special Jury Prize at the Cognac Film Festival.
The soundtrack was a huge success making it to number four on the Billboard 200 and number three on the Top R&B/Hip-Hop Albums and featured seven charting singles

 
Race and the importance of black women in movies:
These women are not only motivated by money, but by a desire to live outside of the structural effects of racism, sexism, and classism which have effectively blocked any movement toward economic stability. – https://www.tiff.net/the-review/how-set-it-off-raked-it-up
in 1996, just four years after the Los Angeles Riots and two after the passing into law of the Violent Crime Control and Law Enforcement Act, a congressional bill that is widely considered to have increased the state's already zealous criminalization and incarceration of Black populations.
Recommendations:
Red Table Talk with Jada Pinkett Smith
The Kitchen (2019)
Directed by Andrea Berloff
Written by Andrea Berloff
Staring Melissa McCarthy, Tiffany Haddish and Elisabeth Moss
The wives of New York gangsters in Hell's Kitchen in the 1970s continue to operate their husbands' rackets after they're locked up in prison.
Links:
https://ew.com/movies/2019/09/20/set-it-off-remake/
http://blackyouthproject.com/set-it-off-and-the-black-feminist-lessons-it-still-holds-for-us/
https://www.bet.com/celebrities/news/2016/11/07/set-it-off-20th-anniversary.html
https://www.tiff.net/the-review/how-set-it-off-raked-it-up
https://en.wikipedia.org/wiki/Set_It_Off_(film)
https://en.wikipedia.org/wiki/Violent_Crime_Control_and_Law_Enforcement_Act
https://www.rogerebert.com/reviews/set-it-off-1996
Podcast: Play in new window | Download
Subscribe: Google Podcasts | RSS | More