In Episode 30 we welcome our very special guest Andy Wolverton for our Mother's Day episode about Mildred Pierce.
Directed by Michael Curtiz. Screenplay by Ranald MacDougall based on the book by James M. Cain. Starring Joan Crawford, Jack Carson, Zachary Scott, Eve Arden and Ann Blyth.
Trigger warnings for this episode are gun violence, emotional and psychological abuse.
Find Andy a https://www.andywolverton.com, on Twitter @awolverton77, and on Letterboxd as awolverton. 
Recommendations:
Prevenge (2016)
Written,  Directed and starring by Alice Lowe
Pregnant widow Ruth, whose partner died in a climbing accident, believes her baby is guiding her to exact murderous revenge on those involved in his death.
No Man of Her Own (1950)
Directed by Mitchell Leisen
Screenplay by Sally Benson and Catherine Turney
Starring Barbara Stanwyck, John Lund, Phyllis Thaxter, Jane Cowl and Lyle Bettger.
A pregnant woman adopts the identity of a railroad crash victim and starts a new life with the woman's wealthy in-laws, but is soon blackmailed by her devious ex.
Cocktail:
The Veda Slap
Burbon
Soda
Fresh Lemon Juice
Simple Syrup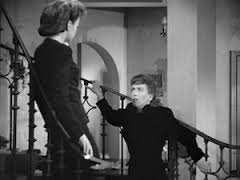 Links:
https://en.wikipedia.org/wiki/Mildred_Pierce_(film)
https://www.criterion.com/current/posts/4433-mildred-pierce-a-woman-s-work
https://variety.com/1944/film/reviews/mildred-pierce-2-1200414499/
https://www.nytimes.com/1945/09/29/archives/the-screen-mildred-pierce-warner-drama-starring-joan-crawford-new.html
Podcast: Play in new window | Download
Subscribe: Google Podcasts | RSS | More