Joining us in this episode is Carl Gonzales as we look at the 1997 TV Show Buffy The Vampire Slayer.
Created Written Joss Whedon.
Starring Sarah Michelle Gellar, Alyson Hannigan, Nicholas Brendon, Charisma Carpenter, and Anthony Stewart Head. 
As of 2018, a spin-off "sequel" of the series is being developed for television, with Monica Owusu-Breen as showrunner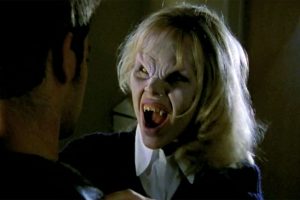 Recommendations:
Buffy the Vampire Slayer comics
Veronica Mars (2004)
iZombie (2015)
Grimm (2011)
Series created by Stephen Carpenter and Jim Kouf & David Greenwalt
The series' narrative follows Portland Homicide detective Nick Burkhardt (played by David Giuntoli), who discovers he is a Grimm, the latest in a line of guardians who are sworn to keep the balance between humanity and mythological creatures, known as Wesen. The series features a supporting cast consisting of Russell Hornsby, Bitsie Tulloch, Silas Weir Mitchell, Sasha Roiz, Reggie Lee, Bree Turner, and Claire Coffee.
The Vampire Effect (2003)
Directed by Dante Lam and Donnie Yen
Staring Charlene Choi, Gillian Chung and Ekin Cheng
It's a high-kicking battle on the dark side when an ace vampire slayer and his beautiful sidekicks wage the ultimate martial-arts showdown with one of the most dangerous of the undead.
Slayer Punch:
Strawberry Simple Syrup
The juice of two lemons
One shot Deep Eddy Lemonaid Vodka
One shot Plain Vodka
Combine in shaker with ice. Shake until mixed. Pour into a glass and top with grapefruit sparkling water.
Links:
Life of Riley
https://www.vox.com/culture/2017/3/10/14857542/buffy-the-vampire-slayer-explained-tv-influence
https://www.radiotimes.com/news/tv/2020-04-06/lockdown-binge-1-buffy/
Podcast: Play in new window | Download
Subscribe: Google Podcasts | RSS | More