Happy two year anniversary! We go back to where it all started for us to Elizabeth Taylor. Joining us in this celebration is Doug McCambridge from the Good Times Great Movies podcast.
In this episode, we look at the 1959  Southern Gothic mystery film Suddenly, Last Summer. Based on the play by Tennessee Williams. Directed by Joseph L. Mankiewicz with the screenplay by Gore Vidal and Tennesse Williams. Starring  Elizabeth Taylor, Katharine Hepburn, and Montgomery Clift.
Suddenly, Last Summer is based on a one-act play by Tennessee Williams that originally was paired with Something Unspoken as part of the 1958 off-Broadway double-bill titled Garden District. Gore Vidal attempted to construct the narrative as a small number of very long scenes, echoing the structure of the play.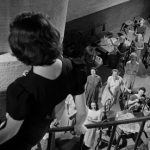 Recommendations: 
A Place in the Sun (1951)
Directed by George Stevens 
Screenplay by Harry Brown and Michael Wilson
Starring Montgomery Clift, Elizabeth Taylor, and Shelley Winters
tells the story of a working-class young man who is entangled with two women: one who works in his wealthy uncle's factory, and the other a beautiful socialite. Based on the murder of Grace Mae Brown.
Night Watch (1973)
Directed by Brian G. Hutton
Screenplay by Tony Williamson, Evan Jones
Starring Elizabeth Taylor, Billie Whitelaw and Laurence Harvey
Ellen Wheeler (Dame Elizabeth Taylor), a rich woman, is recovering from a nervous breakdown with the help of her husband and a good friend. One day, while staring out the window, she witnesses a murder. But does anybody believe her?
Vanya on 42nd Street (1994)
Directed by Louis Malle
Screenplay by by Andre Gregory
Starring Wallace Shawn and Julianne Moore
New York actors rehearse Chekhov's "Uncle Vanya" in a dilapidated theatre.
Links:
https://www.indiewire.com/2014/03/haysd-decoding-the-classics-suddenly-last-summer-214475/
https://en.wikipedia.org/wiki/Suddenly,_Last_Summer_(film)
https://www.cinemaqueer.com/review%20pages%202/suddenlylastsummer.html
Web site: www.FatalFemmesPodcast.com
Patreon: https://www.patreon.com/FatalFemmes
Facebook: https://www.facebook.com/fatalfemmes
Twitter: https://twitter.com/fatal_femmes
Podcast: Play in new window | Download
Subscribe: Google Podcasts | RSS | More